8 January 2014
Crossovers DVDs series available to purchase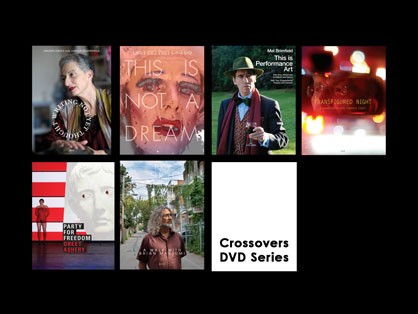 Crossovers are now available to buy on Unbound, LADA online shop for Live Art Books, DVDs and Editions.
The Crossovers DVDs are a series of artists' films, documentaries and dialogues reflecting the potential of marginal art forms and intense ideas within popular media.
Three of the Crossovers films have developed from commissioned dialogues and events for Trashing Performance and look at the multiple histories of performance art as it engages with mainstream TV, appears on the internet, in subculture, in stand-up comedy, and in avant-garde art:
Gavin Butt and Ben Walters' This Is Not a Dream. Charting a path across four decades of avant-garde experiment and radical escapism.
Mel Brimfield's This is Performance Art: Parts One and Two. The first two parts of a multi-part fictional television documentary series mark the fragmentary and unreliable nature of performance art's historical record.
Oreet Ashery's Party For Freedom. Exploring the potentials and dilemmas of liberation in a culture at odds with itself.
Other films in the series have developed from Performing Idea and take the form of Performance Dialogues that explore ideas of performance in contemporary thought, in original conversations with international thinkers working at the forefront of their disciplines:
Transfigured Night, A Conversation with Alphonso Lingis. An exchange between the celebrated American philosopher and Adrian Heathfield.
No Such Thing As Rest, A Walk with Brian Massumi. Setting thoughts and conversation in constant motion, Adrian Heathfield encounters the philosopher and cultural theorist while walking the streets of Montreal.
Crossovers DVDs can be purchased for £12.50 each or complete set of the five DVDs can be purchased at a special price of only £50 here.