Trashing Performance Workshops
Oreet Ashery, Party for Freedom,
7 - 11 September 2011
&
Vaginal Davis, Framing The Freakazoid,
31 October - 2 November 2011
Trashing Performance included two exceptional and intensive workshops led by the internationally renowned artists Oreet Ashery and Vaginal Davis.
Both workshops were aimed at artists working with performance, image making, gender and body politics, action, sound and music.


Oreet Ashery
Party for Freedom
A residential workshop in Rishangles, Suffolk
7 - 11 September 2011
Continuing Ashery's interest in the apparatus of populism surrounding public figures, developed in her recent body of work Hairoism, this workshop/film shoot focused on the Dutch politician Geert Wilders. The figure of Wilders was used to explore media productions associated with rightwing leaders and parties, such as Wilders' film-collage Fitna. The workshop took inspiration from various sources including political theatre, soaps, Orientalism, speeches and virtuality.

Looking at nakedness, action and sound, this was the last in a series of three workshops exploring performances of liberation and their relationships to the failure of the Left. It did this through exploring the work of disparate avant-garde 1970s collectives including Naked as a Jaybird, Collective Actions and Scratch Orchestra.
Food was provided as part of the workshop and participants collectively occupied a church in rural Suffolk, and slept in situ for the duration of the workshop. Footage from the workshop will be made into a film to be premiered in 2012.

Oreet Ashery combines performance, social intervention, video installation and photography to create an interdisciplinary visual art practice. Her work engages with socio-political paradigms, confronting identities, often assuming self-portraits as various male characters, from the dis-enfranchised to the celebrated. Home-made communities, for one or more, and continuous experimentation have marked Ashery's practice from childhood to date. Ashery exhibits, screens, performs and intervenes widely in an international context, both in public situations as well as in art spaces. One of Ashery's recent interactive performances Hairoism was shown in London, Glasgow, Ljubljana and Brussels. Recently Ashery published three books, the graphic novel The Novel of Nonel and Vovel (Charta), her monograph Dancing with Men (Live Art Development Agancy) and the Artangel commission Staying: Dream, Bin, Soft Stud and Other Stories.

Vaginal Davis
Framing The Freakazoid
Toynbee Studios, London
31 October - 2 November 2011
11.00 - 18.00 daily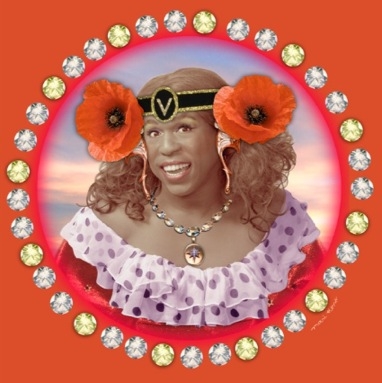 A rigorous and intense three-day exploration led by Vaginal Davis that culminated in an akshunist installation event with the working title 'Pitching the Freak Tent'.
Through various akshuns, film screenings, discussions and studio visits, the lure and lore of the freak was harnessed for its outsider power and mined for rich territories of creativity. Participants rocked the world of the freakazoid, from musicians like Superfreak Rick James, George Clinton, Sun Ra, Josephine Baker, and Grace Jones to Trespass Cinema greats like Rudy Ray Moore and his Dolemite character, from artists like Kembra Pfahler of the Voluptuous Horror of Karen Black, Yayoi Kusama, the Japanese polka dot lady, and Lucia Joyce, the so-called mad dancing daughter of James Joyce, to the weirdest of them all, poet William Blake.
Vaginal Davis is an originator of the homo-core punk movement and a gender-queer art-music icon. Ms Davis made her name in LA's club performance scene, and has earned herself notoriety as a cultural antagonist and erotic provocateur. Her concept bands have left an indelible mark on the development of underground music. Set apart from gallery-centered art, and Hollywood movies, and from those systems' necessities of high-polish, low-substance production, Vaginal Davis's low-budget -- often no-budget -- performance, experimental film and video practice has critiqued exclusionary conceits from the outside.
Vaginal Davis is the key proponent of the disruptive performance aesthetic known as terrorist drag. Disrupting the cultural assimilation of gay-oriented and corporate-friendly drag, she positions herself at an uncomfortable tangent to the conservative politics of gay culture. A self-labeled "sexual repulsive," Ms Davis employs punk music, invented biography, insults, self-mockery, and repeated incitements to group sexual revolt -- all to hilarious and devastating effect.

For other Trashing Performance events including Shows and Talks click on the left hand menu